Planning a corporate event can be a daunting task, but with a bit of organization and a step-by-step approach, you can ensure that your event is a success. Here's a step-by-step guide to planning a corporate event:
1. Define the purpose:
Before you start planning, determine the purpose of the event. Are you looking to network, launch a new product, or celebrate a milestone? Knowing the purpose of the event will help guide your planning decisions.
2. Set a budget:
Once you know the purpose of the event, set a budget. Determine how much you're willing to spend on the event and allocate funds accordingly.
3. Choose a date and venue:
Decide on a date and choose a venue for your event. Keep in mind the availability of your desired venue and the schedules of your attendees.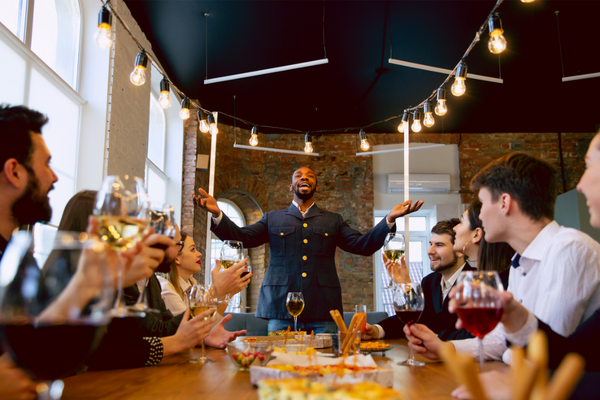 4. Create an event plan:
Develop a plan for your event that includes details such as the agenda, guest list, and logistics. This will help you stay organized and on track as you move through the planning process.
5. Choose a theme:
Consider choosing a theme for your event to create a cohesive look and feel. A theme can help create a memorable experience for your guests.
6. Select your vendors:
Choose vendors for your event, such as a caterer, florist, and audio-visual equipment. Meet with each vendor to discuss your vision and ensure they can provide the services you need.
7. Create a marketing plan:
Develop a marketing plan to promote your event to your target audience. This could include social media, email campaigns, and flyers.
8. Coordinate logistics:
Coordinate logistics such as transportation, parking, and registration. Make sure everything runs smoothly on the day of the event.
9. Follow up:
After the event, follow up with attendees and vendors. Send out thank-you notes and gather feedback to improve future events.
10. Reflect and improve:
Reflect on the event, take note of what went well and what could be improved for future events. Planning a corporate event can be a complex task, but by following these steps, you can ensure that your event is well organized, runs smoothly and is a success. Remember to be mindful of your budget, to choose the right venue and vendors, to market your event, and to coordinate logistics effectively. Following up and reflecting on the event will help you improve future events.